Colombo, Sri Lanka– January 28, 2015 – CYREN (NASDAQ: CYRN) today announced it signed Sri Lanka Telecom (SLT) as one of its latest resellers. SLT will now offer the cloud-based CYREN WebSecurity solution that provides advanced cybersecurity and zero-hour threat protection.
As the national information and communications technology provider and the leading broadband and backbone infrastructure services provider in the country, Sri Lanka Telecom serves more than six million end users and 10,000 organizations, including the region's largest corporate and government entities as well as small and medium-sized businesses.
CYREN WebSecurity will be offered through SLT's new "akaza" cloud computing service. Managed by CYREN's security and operations experts on a purpose-built cloud platform, CYREN WebSecurity delivers best-of-breed protection without requiring akaza customers to purchase hardware or acquire in-house security expertise. Through a proven Security as a Service (SecaaS) model, CYREN WebSecurity provides rapid identification of advanced cyber threats in combination with leading malware and phishing protection for devices and data regardless of type or location.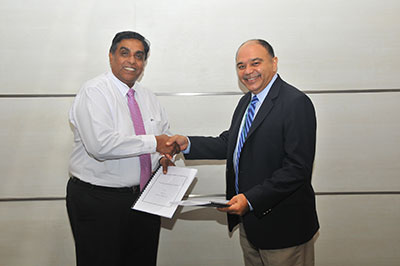 Mr. Lalith de Silva, Group CEO at Sri Lanka Telecom and Mr. Lior Samuelson, CEO and Chairman of the Board at CYREN (right) exchanging the agreement.
"Sri Lanka Telecom is pleased to partner with CYREN to offer our customers proven security technology alongside our cloud computing service," said Lalith de Silva, Group CEO at SLT. "We see CYREN WebSecurity as a robust solution to an ever-mounting security hurdle as organizations look to fend off threats associated with today's increasingly mobile workforce and bring-your-own-device (BYOD) policies. It's yet another step toward providing SLT customers with ongoing peace of mind as well as increased cost efficiencies."
"CYREN recognizes that security and performance are mission critical to an organization such as SLT," said Lior Samuelson, CEO and Chairman of the Board at CYREN. "CYREN WebSecurity provides premier cloud-based protection through its trusted CYREN GlobalView Cloud infrastructure that is relied upon by many of the largest companies around the globe. We are honored to have SLT as a member of our worldwide channel network."
About Sri Lanka Telecom
Sri Lanka Telecom (SLT) is the nation's number one integrated ICT solutions provider and the leading backbone infrastructure services provider. The Company is also the major provider of telecommunication networks and services to top enterprises representing all economic sectors and facilitating them with seamless and sophisticated connectivity to carry out local and global business operations.
SLT group provides a full range of ICT facilities and services in the areas of voice, data, broadband, wholesale, enterprise, TV and mobile services. One of the key strategic objectives of the Group is to drive broadband-based consumer and enterprise services by expanding the broadband footprint via Next Generation Networks and the National Backbone Network and via Next Generation Access of ADSL2+/VDSL2, Optical fibre, Carrier-grade Wi-Fi and fixed and mobile 4G LTE technologies. For more information on Sri Lanka Telecom, visit www.slt.lk.
About CYREN
Founded in 1991, CYREN (NASDAQ and TASE: CYRN) is a long-time innovator in cybersecurity solutions. Offering cloud-based Security as a Service (SecaaS) and security technology components for embedded deployment options, CYREN provides mobile, endpoint, web and email security solutions that are relied upon by the world's largest IT companies to protect them and their billions of customers from today's advanced threats. The CYREN GlobalView™ Cloud Platform delivers top-ranked threat detection capabilities and proactive security analytics that can be flexibly offered as components, full products, or ultra-convenient cloud services. Visit www.cyren.com.