Sri Lanka Telecom (SLT), the pioneering integrated telecommunication service provider entered into an agreement with The Housing Development Finance Corporation Bank (HDFC), to facilitate bill payments at the customer's own doorstep through mobile collection teams to increase convenience for customers. The agreement was signed by the two companies on Monday, 03rd June 2013 in the presence of Nimal Mamaduwa, Chief Executive Officer/General Manager of HDFC Bank who signed on behalf of HDFC and Lalith De Silva, Group Chief Executive Officer of SLT who signed on behalf of SLT.
The agreement signed between HDFC Bank and SLT will significantly increase customer convenience and enhance the customers' experience with the company. SLT has already enabled the bill payment facility in over 3000 different locations islandwide including leading supermarkets, banks and other retail outlets, as well as online through the company's corporate website www.slt.lk. With the signing of this agreement, the bill payment facility has been extended to HDFC Bank's branch network of 32 branches located islandwide. In addition, SLT will make use of the Bank's doorstep banking facility whereby their mobile collection teams comprising over 300 employees, will make regular visits to SLT customers' homes as well as nearby central locations, making it increasingly easy and more convenient for customers to settle their bills without the need to travel long distances to bill payment locations.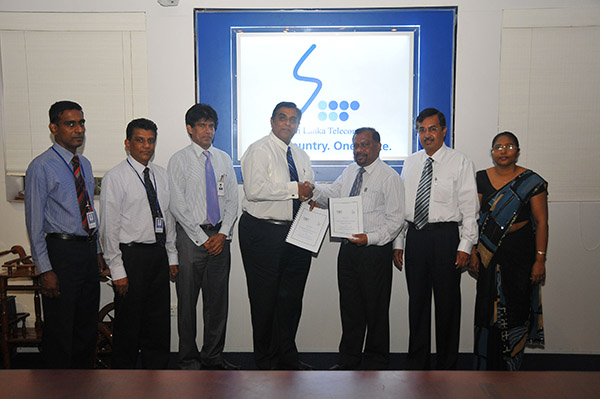 Lalith De Silva, Group CEO of SLT said, "This is especially useful for customers in rural areas such as Batticaloa, Vavuniya, Mannar, Hambanthota, Nuwera Eliya etc. where there are distances exceeding 25 to 30km between customers' homes and the nearest bill payment outlet. We have observed that these customers also face considerable difficulties with regards to transport and due to these issues, their ability to settle bills on time has been adversely affected. This sometimes has resulted in line disconnections and inconvenience caused to customers, even though they have sufficient funds to settle payments on time. It was with these customers in mind that we introduced this solution. This will counter these issues as we visit the customer's doorstep, helping them to settle payments on time, without any hassle and also help add value to them and enhance their overall experience with SLT." The mobile collection teams are equipped with palm top machines, which are linked real time to HDFC Bank's Head Office as well as SLT billing system. Payments collected will be immediately updated on SLT's billing system.
"We consider this as unique to tie-up with Sri Lanka Telecom who is the nation's No. 1 integrated service provider and the leading broadband and backbone infrastructure service provider in the country. Improving our technology remains a priority to capitalize on efficiency and productivity gains that can be facilitated through the creative use of IT and other technologies. Our palmtop operators reach deeper into rural parts of the country and the collection of telecommunication bills will be another value addition to our services", commented Nimal Mamaduwa, the CEO of HDFC Bank, giving his views on the partnership.
About HDFC Bank
HDFC is one of Sri Lanka's leading housing development and financial corporations with the vision of being a customer driven and best managed enterprise that enjoys market leadership in providing housing related finance. The Bank has embraced modern technology to keep abreast with development and to best serve its constantly increasing volume of customers.
Palm-Top banking technology has enabled the Bank to expand their service base to grass root level with the use of hand-held devices. These palm-top solutions enable them to deliver an effective door-to-door solution to customers, getting closer to customers and enabling the delivery of efficiencies that are unparalleled. Not only have they become better with technology, but through this measure HDFC is integrating the country's informal financial segment into the formal banking sector thanks to wider reach and personalized solutions. The bank has successfully introduced prudent financial practice and disciplines into this sector, and together they are making progress in self-employment and micro finance segments.
About Sri Lanka Telecom
Sri Lanka Telecom PLC. (SLTL) is one of Sri Lanka's most valuable blue chip companies with an annual turnover in excess of Rs.56 billion. Sri Lanka Telecom is the nation's number one integrated communications service provider and the leading broadband and backbone infrastructure services provider in the country. Listed on the Colombo Stock Exchange, the Company's market capitalisation as at 31 December 2012 topped Rs.80 billion.
The two main shareholders of Sri Lanka Telecom as at year end were the Government of Sri Lanka which held 49.5% through the Secretary to the Treasury and Global Telecommunication Holdings N.V. of Netherlands, which owned a 44.98% stake. The balance shares are publicly traded.
SLT provides facilities and services in the areas of voice, data, video and mobile to its customers. These services, which are unmatched in scope, range from domestic and international voice, advance data transmission services which include internet services on leased lines, broadband data circuits, to IP services such as IPVPN based on IP-MPLS technology, total corporate solutions, satellite uplink services, IP transit, IPVPN, IPLC and international voice traffic transit services to global telecom operators and corporates, NGN services, wholesale services and mobile telephony, mobile broadband and mobile enterprise solutions through its fully owned subsidiary Mobitel.