SLT wins both 'A' and 'Senior Managers' category matches against Mobitel
Sri Lanka Telecom (SLT), the national telecommunications service provider and it's fully owned subsidiary Sri Lanka Telecom Mobitel, the national mobile services provider, faced against each other at the 'Convergence Trophy T 20' Cricket Encounters 2012 conducted recently at the Wesley College Cricket Grounds. The event was organized by the Cricket Associations of both the companies.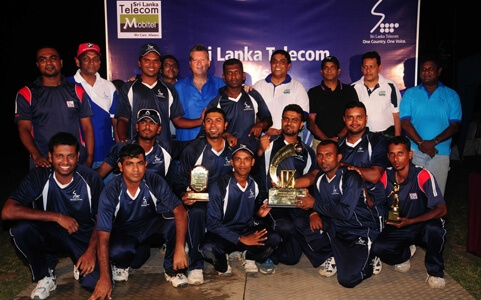 The objective behind the tournament was to strengthen the bond between employees of both companies through participation in the 'T 20' Cricket Encounters.
The limited over cricket encounter saw both companies playing three matches head to head, in categories 'A', 'B' and 'Senior Managers ' respectively.
SLT 'A' won the first match comprehensively by 85 runs. SLT 'A' team posted a massive 197 runs in the 20 overs setting a tough target to Mobitel 'A' team. SLT also won the 'Senior Managers' match by 6 wickets against Mobitel 'Senior Managers' team. However Mobitel 'B' managed to win the last match, which was decided on the run rate.
Speaking on the significance of the cricket encounter, Mr. Kiththi Perera, President of the SLT Cricket Association said, "SLT firmly believes in the merging of business and sport as it helps to further promote values of competitiveness and team spirit. During the past few years, both the SLT and Sri Lanka Telecom Mobitel cricket teams have annually competed against each other in matches played in a friendly atmosphere. The fellowship and good sportsmanship generated through participation in sporting events such as these go a long way in building friendly camaraderie and creating unity and harmony among people in both companies. This emphasizes the spirit of goodwill and harmony that we are trying to create and promote in the workplace and beyond."
This Cricket Tournament is a result of excellent teamwork between the officials from both cricket associations and their efforts to organize a friendly but competitive cricket encounter within a fun filled carnival ambience that pays rich dividends in terms of enhancing social interaction between employees of both companies.