- Exclusive communications partner for Temple's ICT Project
Sri Lanka Telecom (SLT) has strengthened its partnership as the official Telecommunications Service Provider of the Sri Dalada Maligawa.
A Memorandum of Understanding (MOU) was signed recently to provide ultra-high-speed broadband internet services via SLT Fibre optic technology to the Maligawa premises as well as PEO TV facilities via IPTV technology.
These services will be provided free of charge and will facilitate the media centre of the Temple of the Tooth to undertake the broadcasting and sharing of cultural and religious information with the public. This includes the broadcasting of the annual Esala Perehera online, fast and easy uploading of cultural and religious documentaries and photographs of religious festivals.
Speaking at the signing of the MOU on behalf of the Dalada Maligawa, Director - Media & Special Projects, Krishantha Hiswella said that with the country experiencing a massive change in its technological landscape, their aim is to ensure that anyone with access to the internet can enjoy a glimpse of Sri Lanka's vibrant culture.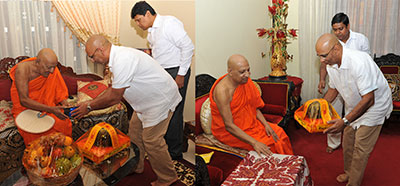 Commenting on SLT's partnership with the Sri Dalada Maligawa, SLT Group CEO, Dileepa Wijesundera said that SLT has consistently come forward to support the Sri Dalada Maligawa during the Kandy Perahera and has successfully provided ICT services to the Temple. "We aim to continue this patronage with the temple with more ICT related services through us in the future," he added.
"SLT values the country's cultural heritage and aims to carry forward this responsibility in keeping with our theme "Preserving Heritage for Tomorrow" which we have aligned into all our corporate responsibility programs and community related knowledge sharing activities," he said.
Further , as a corporate social responsibility initiative, the first copies of a book published by Sri Lanka Telecom (SLT) on the Sri Dalada Perahera were presented to the Mahanayaka Theros of the Malwatta and Asgiriya Chapters and the Diywadana NIlame by SLT's Group CEO Dileepa Wijesundera.
The book titled 'Dalada Abiman' detailing the customs and traditions related to the sacred Tooth Relic, has been brought out in keeping with SLT's Corporate Responsibility theme "Preserving Heritage for Tomorrow". It is intended to broaden the knowledge of the future generations on Sri Lanka's heritage. Edited by Mahinda Kumara Daluptha, the book is to be distributed free to schools, temples and cultural centres.
SLT prides itself on being the National ICT Solutions Provider, which gives due prominence and respect to the culture and traditions of the country. The company takes a strong stance in actively empowering organizations, institutions and bodies to develop the culture and arts of the country in every way possible, supporting and enabling these activities through an efficient and reliable ICT platform.