Complements President's 10th "Gama Samaga Pilisandara" Programme
As the National ICT and Telecommunications service provider, SLT-MOBITEL recorded yet another first by deploying enhanced Voice & 4G/Data connectivity solutions at Meemure – an iconic village in the island nation – in conjunction with the President's 10th "Gama Samaga Pilisandara" programme, on 13th February, 2021.
To power the village of Meemure, SLT-MOBITEL implemented a permanent base station, enabling them to get aboard the digital revolution taking place in the country. A village amidst the beauty of nature, located near the border between the Kandy and Matale Districts in the Knuckles Mountain Range, Meemure is one of the most popular tourist destinations in Sri Lanka.

The lack of connectivity had long been a shortcoming for the people in the area, and SLT-MOBITEL recognised their need and ensured that it was addressed in a wholesome manner, and to complement the President's visit to the village.
SLT-MOBITEL took steps to ensure that the children of the village would be able to truly connect with the rest of the country as they donated IT equipment to the Meemure Primary School, Kandy and set up a Smart Class Room solution at the Kaikawala Kanishta Vidyalaya in the area.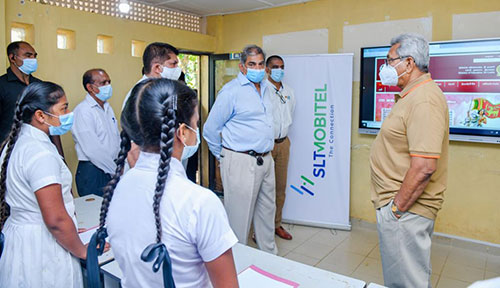 SLT-Mobitel is committed to bridging the digital divide by empowering rural areas with connectivity solutions and the recent initiatives to facilitate the President's Gama Samaga Pilisandara programme further reaffirms the company's pledge in leading Sri Lanka towards an info com and knowledge rich society.