SLT-MOBITEL, entered into an agreement with 93 Fife Residencies (Pvt) Ltd. to install, implement and provide state-of-the-art telecommunication services to the super luxury apartment complex, as part of its commitment towards transforming people's lifestyles.
The agreement was signed recently at SLT-MOBITEL group head office premises in Colombo Fort by authorized signatories Mr. Kiththi Perera, Chief Executive Officer and Mr. Imantha Wijekoon, Chief Sales and Regional Officer of SLT, and Mr. M. M. Mohinudeen and Mr. M. M. Fassuhudeen, Directors of 93 Fife Residencies (Pvt) Ltd. Other representatives from both companies were also participated for the agreement signing.
With this partnership, SLT-MOBITEL will provide 93 Fife with the backbone necessary for a Smart Building that will, in the near future, transform ordinary lives of residents into truly digital lifestyles, which go hand in hand with luxury living.
The 93 Fife Residencies apartments located at Colombo 05 spans 40 perches of land in one of the city's rapidly developing commercial hubs. Designed to meet the rising demand for exclusive new age living, the apartment complex consisting of 42 units is committed to bring unrivalled modern lifestyles to its residents.
SLT-MOBITEL understands that luxury is incomplete without customer access to next-generation speeds and the world at their fingertips. Therefore, as the Digital Solutions Provider for the apartment complex, SLT-MOBITEL will power all units with the company's advanced fibre technology, "SLT-Mobitel Fibre" ensuring residents experience never before maximum broadband speeds of up to 100 Mbps. Residents of 93 Fife will also have access to the next revolution in entertainment television through SLT-Mobitel PEOTV with an uninterrupted and exhilarating entertainment experience indoors regardless of the weather outside.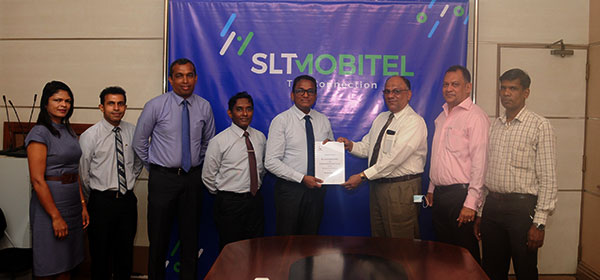 Senior Executive Assistant Manager - Ms. Chithra Kumari, Manager - Mr. Kelum Priyantha, General Manager- Mr. Chethana Attanayake, Chief Sales and Regional Officer- Mr. Imantha Wijekoon, CEO - Mr. Kiththi Perera ( all from SLT) , Director -Mr. M. M. Mohinudeen, Director - Mr. M. M. Fassuhudeen and Accountant- Mr. M. A. N. F. Mohomed.( from 93 Fife Residencies (Pvt) Ltd)
Mr. M. M. Mohinudeen, Director of 93 Fife Residencies (Pvt) Ltd. gave his comments on the partnership saying, "93 Fife Residencies has pushed the boundaries of what is expected in luxury living in providing elegant architecture, meticulously designed residences and unparalleled amenities. We are extremely pleased to have partnered SLT-MOBITEL to provide our tenants with state-of-the-art telecommunication services helping them to live life to the fullest,"
Mr. Kiththi Perera, Chief Executive Officer of SLT stated, "We are pleased to have partnered this prestigious and prominent project, ensuring residents of 93 Fife have access to superior connectivity solutions and smart home technologies elevating city living and contributing towards a digital society."