Sri Lanka Telecom (SLT) organized a special walk to commemorate World Telecommunication and Information Society Day 2015 and the 150th anniversary of the signing of the first International Telegraph Convention and the creation of the International Telecommunication Union (ITU), which falls on 17th May.

The walk was organized on Monday 18th May 2015, at Colombo Fort. Following the walk, balloons were released into the air by Mr. P. G. Kumarasinghe Sirisena, Chairman / SLT together with employees of SLT, signifying the ITU's 150 years of outstanding service to the ICT industry across the globe. The national flag, SLT flag and ITU flag was hoisted by Mr. P. G. Kumarasinghe Sirisena, Mr. Priyantha Perera – CAO / SLT and Mr. Ranjith Rubasinghe CEO / Mobitel (Pvt) Ltd. & SLT Human Capital Solutions (Pvt) Ltd.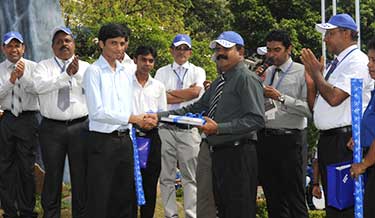 The theme for WTISD 2015 was declared by ITU to be "Telecommunications and ICTs: Drivers of innovation"; in keeping with this theme, the company recognized and awarded four young inventors who were recognized by the Sri Lanka Inventors Commission for their innovative creatiions during the past year. These youth who were recognized at the event included Mr. Ganindu Nanayakkara from Kadawatha for his i-helmet, Mr. W S R Thamel and Mr. K G D Divon Layantha from Nainamada for their automatic rail gate controlling system using fuzzy logic and Mr. Kasun Chandana Jayathunga from Matara for his automatic sign language translator.