'SLTMOBITEL Speedup Southern Eliyakanda Hill Climb 2021' Motorbike and Car racing championship powered by the ultra-high speed fibre broadband and fastest mobile internet services provider in Sri Lanka SLT-MOBITEL concluded successfully amid much fanfare, on the 27th and 28th February, 2021 at the Eliyakanda racing circuit in Matara.
SLT-MOBITEL joined hands with the Southern Motor Sports Club (SMSC) for the 25th edition of the 'SLTMOBITEL Speedup Southern Eliyakanda Hill Climb'. SLT-MOBITEL was the Main Sponsor of this massive competition for the sixth consecutive time,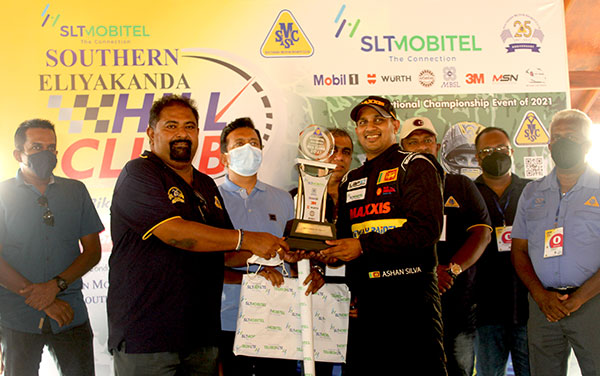 This exciting racing spectacle comprised of 16 motor cycle events and 17 motor car events, and included an uphill course covering a distance of 600 metres, which took place under three stages. The Bike races were conducted on 27th February and the Car races took place the next day, on 28th February, 2021. The racing event's organizers adhered with strict conditions and followed all necessary guidelines that were issued by the health authorities to ensure the safety of everyone who were part of this racing experience. Moreover, SLT-MOBITEL made it possible for fans to view the event live over 'PeoTV Event' channel and SLT-MOBITEL social media pages. The presence of the Minister of Youth and Sports to inaugurate the event was noteworthy, while the senior management team of SLT-MOBITEL presided over the closing ceremony marking its successful conclusion.
The competition this year was intense as 220 competitors including all the popular car and motorbike racers in the island participated in the event. Jaden Gunawardena took pole as the faster biker among a 103 racers, marking a new race record of 33.63 seconds finishing time. Moreover, Ashan Silva made history at the car race as the first person in the event's 25 year history to complete the race in 31.26 seconds. The race was made extra special as Ashan had in a previous outing beat Dilan Seneviratna's record of 31.783 seconds, and this year he broke his own record, cementing his position as the fastest ever in the competition.
The SLTMOBITEL Speedup Southern Eliyakanda Hill Climb is a national championship event which functions under the purview of the Sri Lanka Automobile Sports (SLAS), the governing body for motor sports in Sri Lanka. Motor and bike racing enthusiasts from across the island look forward to this annual spectacle where they get to enjoy a taste of some of Sri Lanka's finest racers in action.
Sharing his thoughts on the success of the racing event, Mr. Prabhath Dahanayake, Chief Marketing Officer of Sri Lanka Telecom stated, "It was a privilege for SLT-MOBITEL to have had the chance to sponsor the Southern Eliyakanda Hill Climb for the sixth continuous year. As a forerunner in providing high speed broadband services, it is only right that SLT-MOBITEL brings this much-anticipated racing experience to the fans of the sport."
The President of the Southern Motor Sports Club (SMSC), Dr Sanjaya Sedara Senarath sharing his sentiments on the SLTMobitel Speedup Southern Eliyakanda Hill Climb event said that they very much appreciate the support given by SLT-MOBITEL for this competition. He further stated that it gives them strength to help achieve their goals of uplifting motor sports in Sri Lanka."