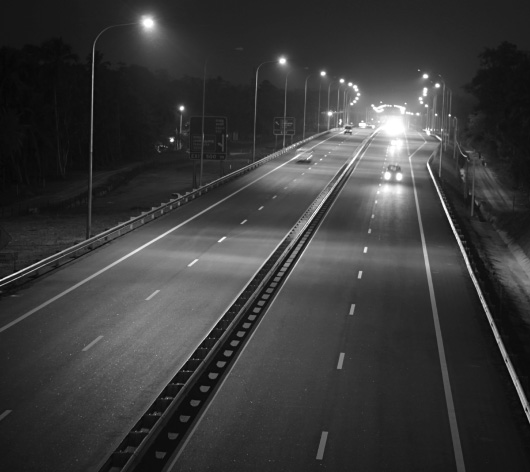 COLOMBO TO GALLE
117km
of optical fibre laid along the Southern Expressway to facilitate the information superhighway for the Southern Province
THE SOUTHERN EXPRESSWAY
The Southern Expressway at night. This is Sri Lanka's first E Class highway. Now 96 kms long, the highway links Colombo with Galle, and will eventually reduce the time taken to travel from Colombo to Matara from four hours to one and a half hours.
Our Vision
All Sri Lankans seamlessly connected with world class information, communication and entertainment services.
Our Mission
Your trusted and proven partner for innovative and exciting communication experiences, delivered with passion, quality and commitment.
Corporate Information
Name of the Company
Sri Lanka Telecom PLC
Legal Form
A public Limited Liability Company incorporated in Sri Lanka in September 1996 under the Conversion of Public Corporations or Government Owned Business Undertakings into Public Limited Companies Act No.23 of 1987 and quoted on the Colombo Stock Exchange in January 2003.
Company Re registration Number
PQ 7
Stock Exchange Listing
1,804,860,000 Ordinary Shares of the Company are listed in the Colombo Stock Exchange.
Registered Address
Telecom Headquarters, Lotus Road Colombo 01
Board of Directors
Nimal Welgama – Chairman, Sandip Das, Chan Chee Beng, Jeffrey Jay Blatt, Jayantha Dharmadasa, Shameendra Rajapaksa, Kalinga Indatissa, Lawrence Michael Paratz, Dayananda Widanagamachchi
Auditors
KPMG Ford Rhodes, Thornton & Co., (Chartered Accountants), No. 32, Sir Mohamed Macan Makar Mw, Colombo 03.
Company Secretary
P W Corporate Secretarial (Pvt) Ltd
Credit Rating


Fitch Rating Lanka
Domestic Rating: AAA (Sri) Long Term Local Currency and Foreign Currency Rating: BB-
Standard & Poor's
Foreign Currency Rating: B+ Local Currency: BB-
Bankers
Bank of Ceylon People's Bank Commercial Bank of Ceylon PLC HSBC Bank Hatton National Bank PLC Sampath Bank Standard Chartered Bank Seylan Bank Citibank N.A. Nation Trust Bank NDB Bank Deutsch Bank
Name of Company
Holding
Principal Activity
Mobitel (Pvt) Ltd
100%
Mobile telephony
Sri Lanka Telecom (Services) Ltd
100%
Providing total network solutions to Corporate and small business Customers.
SLT Hong Kong Ltd
100%
Point of Presence - (off shore subsidiary) Providing IP transit services
SLT Publications (Pvt) Ltd
100%
Directory publication services
SLT Visioncom (Pvt) Ltd
100%
IPTV operations
SLT Manpower Solutions (Pvt) Ltd
100%
providing workforce solutions
SKY Network (Pvt) Ltd.
99.89%
Wimax operations
Regional Telecom Offices
Ampara
Hatton
Matara
Anuradhapura
Havelock Town
Negombo
Avissawella
Jaffna
Nugegoda
Badulla
Kalmunai
Nuwara Eliya
Bandarawela
Kalutara
Polonnaruwa
Baticaloa
Kandy
Panadura
Chilaw
Kegalle
Ratmalana
Colombo Central
Kotte
Ratnapura
Galle
Kurunegala
Gampaha
Mannar
Trincomalee
Gampola
Maradana
Vavuniya
Hambantota
Matale
Wattala
Teleshops
Ambalangoda
Kandy
Matara
Bandaragama
Katunayake
Mathugama
Bandarawela
Kegalle
Mattakkuliya
Beruwala
Kiribathgoda
Monaragala
Biyagama
Kilinochchi
Mount Lavinia
Embilipitiya
Kotte
Negambo
Gampaha
Kuliyapitiya
Nittambuwa
Homagama
Kurunegala
Piliyandala
Horana
Liberty Plaza
Puttalam
Ja-ela
Lotus Road
Slave Island
Jaffna
Maharagama
Thangalle
Kaduwela
Maradana
Wattala
Kandy City
Matale
Wennappuwa
Designed and produced by

Digitized by


Who We Are
Our geographic, divisional and market capabilities
---
Sri Lanka Telecom (www.slt.lk) is one of Sri Lanka's most valuable blue chip companies with an annual turnover in excess of Rs 50 Billion. Sri Lanka Telecom is the nation's number one integrated communications service provider and the leading broadband and backbone infrastructure services provider in the country. Listed on the Colombo Stock Exchange, the company's market capitalization as at 31 December 2011 topped Rs 87 Billion.
The two main shareholders of Sri Lanka Telecom as at year end were the Government of Sri Lanka which held 49.5% through the Secretary to the Treasury and Global Telecommunication Holdings N.V. of Netherlands, which owned a 44.98% stake. The balance shares are publicly traded.
The SLT Group has a customer base of over five million including multinational corporations, large and small corporate, public sector, retail and domestic customers. The company has been awarded a National Long Term Rating of AAA (lka) and a BB- rating on Long term Local Currency and Foreign Currency by Fitch Ratings, followed by BB- local currency and B+ foreign currency Credit Ratings by Standard & Poor's.
SLT provides facilities and services in the areas of voice, data, video and mobile to its customers. These services, which are unmatched in scope, range from domestic and international voice, advance data transmission services which include internet services on leased lines, broadband and dial up, data circuits, and frame relay solutions to IP services such as IPVPN based on IP-MPLS technology, total corporate solutions of multiple services, satellite uplink services, IP transit, IPVPN, IPLC and international voice traffic transit services to global telecom operators and corporates, NGN services, wholesale services and mobile telephony and mobile broadband through its fully owned subsidiary Mobitel.
With a view to making Sri Lanka a broadband island, SLT is in the process of introducing the necessary infrastructure in the form of NGN [Next Generation Networks] using optical fibre backbone and broadband services such as IMS, and IPTV. SLT also provides high speed global connectivity to countries in the South Asian region through its investments in international submarine cables such as SMW3, SMW4, Bharat Lanka submarine cable system [between India and Sri Lanka] and Dhirragu-SLT submarine cable system [between The Maldives and Sri Lanka].
Together with its subsidiaries, SLT offers a full gamut of telecommunication solutions. Mobitel, branded Sri Lanka's National Mobile Service Provider, is technologically at the cutting edge and a leader in Sri Lanka's telecommunication industry. PEO TV redefined the future of tele-viewing in Sri Lanka with the launch of Internet Protocol Television (IPTV). SLT Publications (Pvt) Ltd. produces the country's premier telephone directory used by the entirety of the industry and accessible worldwide. SLT Services (Pvt) Ltd. provides project management and consultancy services to Sri Lanka Telecom for its development projects and system integration to large corporate and SME customers. SLT Manpower Solutions provides the human resource management service to the group by recruiting, training, assessing, outsourcing and providing consultancy services. Sky Network operates Sri Lanka's first ever WiMax 16e high speed wireless broadband network to further penetrate broadband services across the country.


Financial Highlights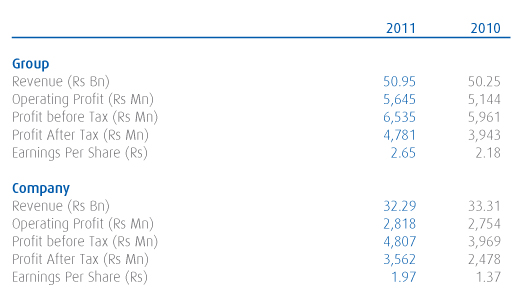 ---