Sri Lanka Telecom (SLT) is proud to announce that a student of the SLT Training Centre, was crowned as the 1st Asian to win 'International Learner of the Year' award. He was also the winner of 'Medal for Excellence' program under the category of 'Telecommunication Systems' at the recently held annual City & Guilds 'Medal for Excellence and Lion Awards' at the Round House Theatre in London.
Mr. Samith Rajapaksha is a student at SLT Training Centre for the Technician Diploma in Telecommunication Systems programme under the International City & Guilds (C&G) curriculum. Medal for Excellence recognizes the achievements of C&G learners, lecturers and trainers who have achieved results by producing exceptional work – going above and beyond what is expected to achieve their goals. It recognizes not only excellent results but also a true journey of progression throughout their qualification. Samith was selected through a highly competitive evaluation process among more than 2.5 million candidates around the world from 80 countries. Samith was nominated by Mr Thusitha Sameera Bandaranayake who was one of the lecturers at the SLT Training Centre.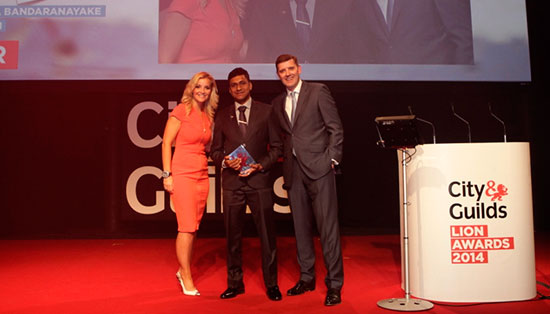 'International Learner of the Year' and winner of 'Medal for Excellence' program under the category of 'Telecommunication Systems', Samith Rajapaksha (center). The awards were hosted by CEO of City and Guilds (right), Chris Jones and Television presenter and adventurer Helen Skelton (left).
Areas considered for 'International Learner of the Year' Award are - Highly developed skills, outstanding knowledge, versatility and adaptability, innovation and originality & additional relevant Information.
Samith comes from the village of Attanagalle and has encouraged himself to continuously learn and train in the telecommunications field. His work is always performed at very high standards. After completing his level 2 studies in Telecommunication Systems, Samith joined Sri Lanka Telecom as a Trainee. He progressed rapidly and was soon allowed to perform tasks that were normally reserved for advanced technicians. He enjoys sharing his knowledge with others and has also produced a basic handbook for telecom technicians based on what he has learned. This handbook was given to his classmates and it has helped them in preparing for exams. Samith funds his training by working several part-time jobs such as farming in the paddy fields with his father. His dedication to learning and improving his skills surely means that Samith has a bright future ahead of him.
"We always believe in the importance of recognizing success and inspiring our staff to discover their potential towards achieving the company's as well as their sustainable growth," commented Mr. Lalith De Silva, Group Chief Executive Officer of SLT. "Throughout the year we are recognizing and rewarding employees who have demonstrated special talents. Most importantly we are motivating and engaging with staff to empower our talent pool, since they are the most valuable asset and are at the very heart of our business. Furthermore, encouraging our staff in this way to develop their skills and abilities to be on par with internationally recognized qualifications is yet another way in which we support the Government's vision of transforming Sri Lanka into the Wonder of Asia since a skilled, experienced and SMART workforce is key to enable our country to step into this vision and make it a reality. So I'm extremely delighted to see Samith Rajapaksha, one of SLT's City & Guilds students shine at the International 'City & Guilds Medal for Excellence' programme, making our company and our country proud. I truly wish him all the best for a bright future."
SLT's outstanding achievements in this education field by winning numerous 'Medal for Excellence' awards & recognitions include;
| Year | Student | Tutor |
| --- | --- | --- |
| 2014 | Samith Rajapaksha | Ruwan Darshana Bandara |
| 2013 | Thilina Menikdiwela | K. P. W. Asiri Indika |
| 2011 | T. Thilini Dilrukshi | |
Medal for Excellence and Lion Award
For over 100 years, the annual City & Guilds Medal for Excellence programme has recognised the impressive achievements of learners and tutors. Each year, City & Guilds awards around 200 medals to the most outstanding students across the world. The highest recognition of the programme is the Lion Awards. The Lion Awards ceremony is held once a year in London and Samith was fortunate to receive his award at the Round House Theatre in London recently.
Sri Lanka Telecom Training Centre
The SLT Training Centre conducts training courses for the younger generation and for those who are looking for careers in the Telecommunication industry to pursue their tertiary education. City and Guilds - Telecommunication and Edexcel - BTEC Higher National Diploma courses have gained high popularity in the past and students are enrolled annually for these courses
SLT's training facilities comprise of 4 fully equipped training centres located at 4 key areas of the country: the two main centres are at Welisara and Moratuwa and two regional training centres are at Peradeniya and Galle. They consist of fully equipped modern training facilities including modern laboratories that provide students with exposure to high end state of the art technology, internet access and library facilities. The Training Centre also provides residential and recreational facilities, ensuring students are able to enjoy a unique all-rounded experience of "university life". Furthermore, the small class sizes and comprehensive course material provided, as well as the reasonable course fees that promise value for money, make these study programmes very appealing to students of all ages. Lectures are conducted by a panel of highly experienced and talented Engineers, which also includes international award winning lecturers, who have been trained in Sri Lanka as well as abroad and who are experts in their relevant fields. Visit www.slt.lk/training for more information.