Sri Lanka Telecom (SLT), the leading broadband and digital services provider in Sri Lanka was proud to announce that it will be partnering the much awaited national ICT expo, INFOTEL 2019 which will be conducted at the BMICH from 1st to 3rd November 2019. Running for the 27th consecutive year, the theme of this year's expo is "Towards a digital nation".
INFOTEL provides the ideal platform where ICT knowledge and experience as well as futuristic ICT solutions can be shared with business leaders, professionals, students, educationalists and many others, creating an ideal environment for the generation of global business opportunities as well as opportunities for expediting the country's economic development. Having conducted the first INFOTEL expo nearly three decades ago, today, its scope and reach has expanded greatly. This year's INFOTEL expo will cover areas such as ICT education, training and career guidance, software solutions, hardware and digital devices as well as digital lifestyles and smart city concepts, mobile computing, systems integration, computer gaming, cloud computing and emerging technologies such as IoTs, robotics etc. SLT will be partnering with the INFOTEL 2019 as the Principal Sponsor
Giving his comments on INFOTEL as well as the role played by SLT in this prestigious expo, Mr. Kumarasinghe Sirisena, Chairman of SLT said, "It is an honour for us to partner with the pre-eminent ICT expo in Sri Lanka, INIFOTEL once again this year. ICT and digitalization together will play a catalytic role in Sri Lanka's future, and to achieve our country's economic development goals. Being a leader in ICT in Sri Lanka, we understand that as well as the importance of INFOTEL better than anyone else. This is why we continue to play a key role in contributing towards the country's vision of realizing a "Smart Sri Lanka", in every way possible."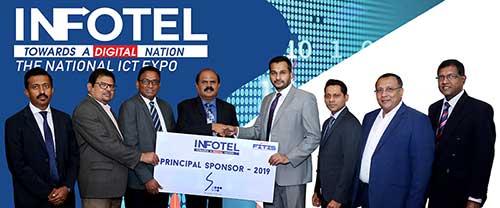 From left : SLT Mr. Prabhath Dahanayake – Chief Marketing Officer , Mr. Priyantha Fernandez – Chief Operating Officer, Mr. Kiththi Perera – Chief Executive Officer, Mr. Kumarasinghe Sirisena – Group Chairman and from FITIS Mr. Abbas Kamrudeen - Chairman, Mr. Fazloon Sheriff - Chairman Main Organizing Committee – INFOTEL 2019, Dr. Kithsiri Manchanayake - Immediate Past Chairman FITIS and Mr. Aruna Alwis, CEO FITIS.
Mr. Abbas Kamurdeen, Chairman of FITIS, explained that this year's INFOTEL themed as 'Towards a Digital Nation', aiming at building a holistic nation that thrives on digital technology. This would enable citizens of all sectors, and the government to synchronize all economic activities around technology for growth and development. Sri Lanka has already recognized the importance of a digital economy to face future economic and social challenges, however, to achieve this target, as a nation it is important to integrate ourselves into digital technology and we are very pleased that SLT being the Principle sponsor at INFOTEL 2019 adding a significant value in making Sri Lanka Digital nation and we as a ICT industry body we convey our gratitude to SLT.
The SLT Group Stall at INFOTEL will be located at the Sirimavo Bandaranaike Exhibition Hall, Hall B. It will demonstrate many of digital products and smart concepts, providing opportunities for all visitors to experience what next generation digitally enabled "smart" lifestyles are all about. A digital carnival will also be held at the SLT Stall. The SLT Group encourages and welcomes all visitors to INFOTEL to visit the SLT Group and FITIS stalls to experience this novel concept.