Sri Lanka Telecom, the leading ICT and digital solutions provider in the country successfully concluded the company's SME Solutions Partnership Day 2019, at Taj Saumudra, Colombo. This event was organized to showcase the solution portfolio of SME solutions partners, sign agreements with them and to build & strengthen relationships between partners and SLT sales staff. SLT signed agreements with 27 SME solutions providers for a period of three years.
Through these agreements, SLT will able to take responsibility of providing "total solutions" to the Small & Medium Enterprises. This will minimize the difficulties SLT's SME customers face in dealing with multiple vendors to receive certain solutions. The agreements covered a wide range of solution categories including Unified communication, Networking infrastructure, CCTV, Cabling , software etc.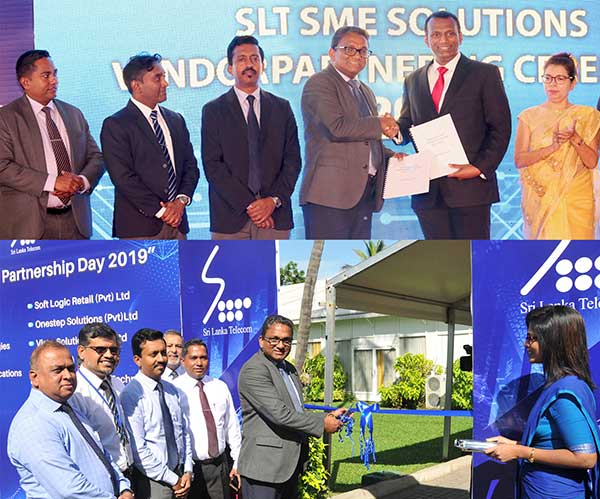 The following Private Limited Companies signed agreements with SLT. Advanced Network Technologies ,Aiken, Bartleet Electronics ., Ceylon Innovation, Ceymplon., Digital Content., E Solutions Lanka., East Link Engineering Company., Epic Lanka Technologies ,EZY Distributions ,Fentons, Finco Technologies , Fintechnology Asia Pacific Lanka, GreenWin Technologies Lanka, Just In Time Technologies., Metropolitan Communications ,Onestep Solutions , P.W .J. Lanka Technology., SALA Enterprises, SEC Vision, Siyol International, Smartcom Engineering, Softlogic Retail, Sri Lanka Telecom Digital info Services, Sri Lanka Telecom Services , Starcom international & investment and Vista Solutions.
The SME Solutions Partnership Day had two sessions: The morning session comprised of valuable product demonstrations, giving a unique opportunity for SLT sales staff to obtain firsthand experience on the products and solutions offered by the partners. Through this "one-stop-shop" concept.t partners also benefited by being able to reach SLT's sales staff in one location. The evening session was a formal agreement signing ceremony and Mr. Kiththi Perera, CEO of SLT delivered the key note speech.
SLT invites the customer who are interested in SLT's enterprise solutions in partnership with these vendors, to contact 0112389389 and WhatsApp over 0705004000 or email- bizsolutions@slt.lk.