SLT-MOBITEL announced their partnership with the Sri Lanka Transport Board to provide Wi-Fi connectivity and branding for the new 'Park and Ride' city bus service developed by the State Ministry of Transport. The inaugural launch of the first of its kind luxury bus service was held on January 15th 2021 under the patronage of His Excellency the President Gotabaya Rajapaksa, Minister of Transport, Gamini Lokuge, State Minister of Transport Dilum Amunugama, SLTB Chairman, Kingsley Ranawaka, Chairman of SLT Group, Rohan Fernando along with higher officials from SLT-MOBITEL.
Commenting on SLT-MOBITEL's contribution to the Park and Ride bus service, Rohan Fernando, Chairman, Sri Lanka Telecom Group stated that the Park and Ride city buses will be yet another platform for Sri Lankans to experience SLT-MOBITEL's world class Wi-Fi connectivity services on the go.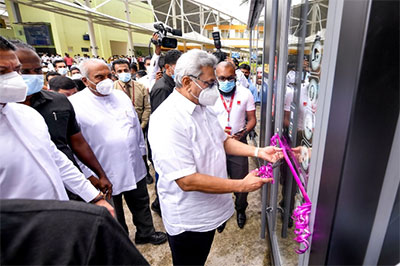 His Excellency the President Gotabaya Rajapaksha launching the newly developed Park and Ride Bus Service.
The city bus service was launched in efforts to reduce traffic congestion and promote safe and secure travel in Colombo. The first phase of the bus service will operate from the Makumbura Multimodal Transport Center (MTC) with 25 buses and soon will be implemented across the country. The buses are set to operate every 15 minutes from 06:00am to 09:00am on a daily basis. After 9:00am, the buses will operate every 30 minutes until 08:00PM. Passengers with small vehicles and motorcycles will be able to park their vehicles in a designated area at the MTC and hop on the 'Park & Ride' city bus to commute to Colombo.