Enabling smart technology and enhancing user entertainment experience, SLT-MOBITEL, the National Information and Communications Technology (ICT) Solutions Provider is gifting customers who subscribe to the new 'SLT-Mobitel Fibre Triple Play' service in November with promotional SLT-Mobitel PEO TV packages ranging from 'PEO Family' upwards, a valuable 'TeDiSmart IR Blaster' smart device.
The powerful TeDiSmart IR Blaster smart device offered absolutely free-of-charge, is through a collaboration with The Connection Workshop Pvt Ltd. Available at SLT-MOBITEL e-Teleshop, the TeDiSmart IR Blaster is valued at Rs. 3,745/- for retail buyers.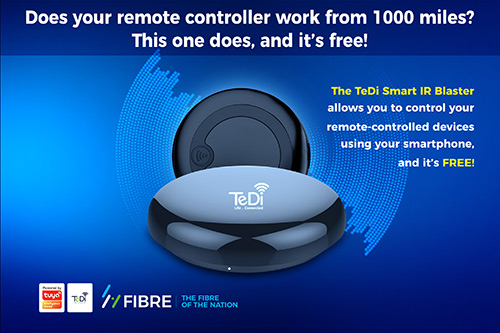 The TeDiSmart IR Blaster powered by Tuya, is a compact smart remote controller to activate home appliances from anywhere at any time. The portable and handy device enables customers to control and operate air conditioners, TVs, fans, DVD players, set-top boxes and more. The remote controller is supported through the 'TediSmart' app (IOS and Android).
The 'SLT-Mobitel Fibre Triple Play' service offers three unique experiences via best-in-quality telephone connections through voice capabilities, uninterrupted high-speed broadband connectivity and personalized entertainment with SLT-Mobitel PEO TV with High Definition capability.
This unbeatable offer is only for the first 100 customers who meet the eligible criteria and the gift will be couriered to the selected customers at the end of promotion. Subscribe to the superior SLT-Mobitel Fibre Triple Play connection with the premium PEO TV packages and be among the first customers to receive the free TeDiSmart IR Blaster.