Sri Lanka Telecom (SLT), the premier ICT solutions provider successfully conducted the company's Transformers' Awards ceremony to reward outstanding employees who have contributed in exceptional ways towards the company's performance and transformation during the year 2013. The Awards ceremony was a prestigious event and was held in a grand scale at Cinnamon Grand Colombo recently, marking a milestone in the company's staff recognition.
Hon. Ranjith Siyambalapitiya, Minister Telecommunications & IT was the Chief Guest of the event. Mr. Janath Fernando, Private Secretary to Minister Telecommunications & IT and Mr. Kalinga Indatissa, Director / SLT also graced the event with their presence. Further, Mr. Lalith De Silva, Group Chief Executive Officer / SLT, under whose leadership and direction the company embarked on a new journey and new long term strategic direction last year, management of SLT and subsidiaries and other officers of SLT as well as the family members of the award winners also attended the event.
Awards were presented to deserving employees who were selected from across different groups, professions and grades across the entire organisation. Winners received attractive prizes such as return air tickets with accommodation. Nominees for the awards were invited from each group and winners were finally selected after carrying out interviews followed by a thorough evaluation by a special evaluation committee. Employees were evaluated based on strict criteria including project management excellence, business change management, project sponsorship, leadership excellence, exemplary employees and ideas to bring about change. A special Group CEO's Award was also given to the most outstanding employees who have contributed all-round in an extraordinary way to SLT during the year.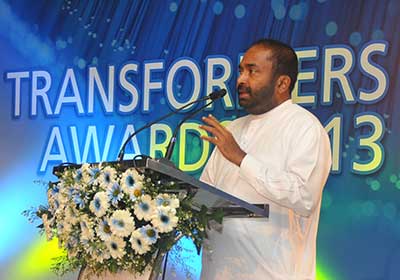 "As a nation we all must be proud of the economic benefits we are enjoying through the robust ICT services in the country," commented Hon. Ranjith Siyambalapitiya. "Being the leading ICT solutions provider, SLT has placed top emphasis on ICT infrastructure to ensure economic empowerment through the connected Government programme 'Lanka Government Network' and all other main economic powerhouses. The Government strongly believes that the country's national ICT plans are the key driving force to leverage and realize the full potential of ICT as an enabling infrastructure to accelerate sustainable development. So I take this opportunity to congratulate all the winners as well the entire nation-minded team at SLT who are very passionately contributing towards the country's development goals."
Mr. Lalith De Silva, Group CEO of SLT speaking about the Transformers' Awards, said, "We did a major shift last year in our company where we refocused our business strategy to empower the growth of the national economy, in support of the Government's vision to transform Sri Lanka into the Wonder of Asia. This included the introduction of the latest technologies, mega long term investments as well as the adoption of best practices into our company to create a high performance organisation. It was a very busy and challenging year for us and I am truly proud of my entire team at SLT who contributed with their heart and soul and put in their maximum efforts to drive our nation towards a SMART Sri Lanka. So the Transformers' Awards is a tribute to all our employees who have been committed and worked hard during the year and contributed in exemplary ways that has resulted in changing the course of our company during the last year. As the national ICT service provider in the country, SLT's strategic focus remains strongly aligned to the vision of the Government of Sri Lanka and the national agenda. We remain committed to be a catalyst in further establishing the communications backbone of our country, which will be the foundation and platform for all other businesses and economic sectors to leverage on and develop and realize the aspirations of the Government for our nation. I appreciate and thank our Chairman, Mr. Nimal Welgama and the Board of Directors for their support and guidance throughout the last year that has been instrumental in our journey as the national ICT solutions provider."