SLT Customer Club - Ratnapura together with the SLT volunteer team has organized a mission, "Planting for Water", which is a "reforestation project" conducted at Rakwana Palamkotte mountain range, bordering the world heritage Sinharaja rain forest. This programme was greatly supported and guided by the regional authorities from the Department of National Community Water Supply, Forest Department Sri Lanka and volunteers from the community living in the area.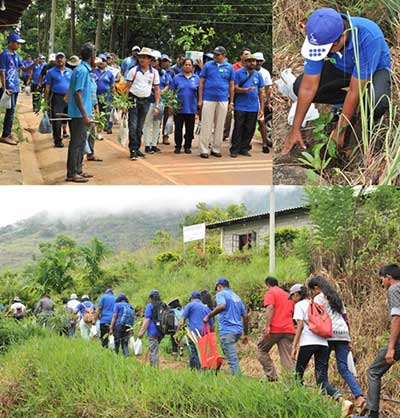 A major challenge faced by villagers in the Rakwana Palamkotte area is the lack of suitable drinking water. This water shortage is directly linked to the deforestation that took place in the area many years ago. In fact, one of the most serious challenges that our country will have to face in the near future is the inadequacy of clean drinking water. Though this is presently concentrated to several areas in the country, it has the potential of spreading to all parts of the country in the future, with the fast spread of urbanization and the clearing of forests. Within such a context, the ultimate goal of this project is to minimize future environmental risks related to the shortage of drinking water in the country.
"I am proud to work with the SLT team from their Headquarters and Ratnapura branch office together with members of the SLT Customer Club – Ratnapura for the protection and the future survival of the Sinharaja Rain Forest which is considered a World Heritage. We are glad that SLT has recognized the sense of urgency of protecting our environment and embarked on this truly noble endeavor. We hope that others also will support us for these types of worthy projects in the future as every citizen in Sri Lanka only stands to benefit from the protection of the environment. This project commenced with the planting of seedlings in one acre of land during the initial phase and we are planning to continue reforestation in another 4 acres of the selected acreage of this forest reservation. In a society that is too busy and preoccupied with various activities and obligations, the aim of each and every one of us who are engaged in this project is to continue to protect the Sinharaja rain forest and surrounding forests and preserve it for the future generations." said by Mr Yehiya M. Iflar, President of the SLT Customer Club – Ratnapura.
Members of the SLT Customer Club – Ratnapura, the team of volunteers from Regional Telecom Office of Ratnapura & Corporate Relations Division of SLT with the support of the customers and people living in the area joined hands for this worthy cause in order to carry out reforestation in 5 acres of land in this area and contribute towards preserving our natural heritage for the future generations. The SLT team believes that through this programme, they are nurturing the company's vision on nature conservation and protection, and aligning to SLT's broader initiative of 'Preserving Heritage for Tomorrow', which has been an ongoing project of the company for over a period of nearly two decades.
"Through this reforestation project, the team expects to help build a "protection buffer-zone", between the World heritage site, Sinharaja Forest Reserve and connected mountain forests. We believe that sustainability in water sanitation & health and water resources management is an ongoing challenge. Sri Lanka possesses a rich history with regards to water management from the days of the Kings past. However, at present, only 25% of the rural community Sri Lanka has access to pipe water or clean drinking water. Natural water resources are becoming highly endangered. So we all as citizens of this country, need to act fast on this critical issue." Mr Rohana Ellawala, General Manager (Corporate relations) of Sri Lanka Telecom expressing his views on this voluntary programme said.
Despite the country's vast water resources (water basins, tanks, etc.) access to clean drinking water still poses to be a major problem. Water-based issues is a severe problem faced by all people of Sri Lanka, despite the best efforts of Government agencies to provide pipe-borne clean drinking water to 60% of Sri Lanka's population. WEF Global Risks Landscape – a report based on the annual Global Risks Perception Survey (GRPS), draws from a global multi-stakeholder community, including businesses, academia, civil society and the public. It demonstrates our urgent need to match concepts and re-evaluate our existing practices. UN Water Forum projected that by 2025, approximately 1.8 billion of the world's population will face absolute water scarcity, and an estimated two-thirds will be living under water-stressed conditions.
A drought was experienced in Sri Lanka in the reason past, resulting in severe water shortage in the country. A similar experience is expected to be repeated in the very near future despite efforts to create a conduit to channel water from a place of abundant supply to where the resources can be put to best use. Collaboration amongst volunteers, public, private and Government entities is needed for the successful mobilization of projects of this nature to other important areas as well.
The ecosystems of the world heritage Sinharaja rain forest and connected mountain forests need to be protected and every citizen of Sri Lanka can be a part of it. It is important to understand that the Sinharaja rain forest is one of the most important forests in the world, and it has been recognized as such by the UN due to the diverse varieties of endemic and rare species of wildlife found at the rain forest. This means that its ecosystem is unique and cannot be reproduced by people of our country or by anyone else. Many of these unique species will disappear if their natural habitat disappeared and that is why our efforts to preserve this heritage is so vital to the continual preservation of this unique area.
This reforestation effort aims to restore trees in 1 acre of land at Rakwana Palamkotte mountain range in this initial programme, and cover a total area of 5 acres in the vicinity.