Sri Lanka Telecom (SLT), the country's number one integrated telecommunication operator proudly announced its enviable achievement at the recently held 49th Annual Report Awards Grand Finale organized by the Institute of Chartered Accountants of Sri Lanka (CA Sri Lanka). The company was adjudged the "GOLD" Winner of the Best Presented Annual Report in the Telecommunications Sector category for 2012.
The CA Sri Lanka Best Presented Annual Report Awards is considered the most prestigious accolade for annual reporting in our country. It signifies CA Sri Lanka's recognition and reward for organizations in Sri Lanka which have achieved excellence in presentation and disclosure of high quality, relevant, reliable and objective financial statements in accordance with the framework stipulated by the International Accounting Standards Board (IASB).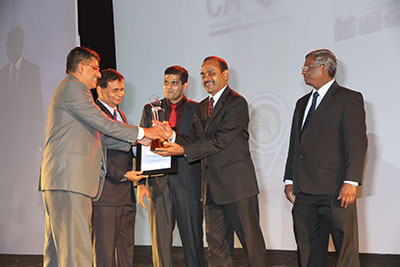 CA Sri Lanka President Sujeewa Rajapakse presenting the Gold Award to SLT CFO Udeni Samararatne. Others looking at awarding Gold Award (from L~R) SLT GM Accounts, Anura Ranasinghe; Chairman – Annual Report Awards 2013, Tishan Subasinghe and Past Chairman - Annual Report Awards, Lasantha Wickremasinghe.
Mr. Lalith De Silva, Group CEO of SLT said, "This is testimony to the company's excellence in reporting and our wholehearted commitment and dedication as well as strong sense of accountability to our stakeholders in presenting information in the most fair and transparent manner whilst maintaining the highest standards of corporate governance - in line with the best global practices. Thus the SLT team & I are delighted that our annual report has been recognized for its excellence of preparation, format, presentation, content of management review, governance, sustainability reporting and financial accounts etc., and the timelines maintained. SLT would like to thank our annual report partner, Emagewise (Pvt) Ltd., for creatively and tangibly expressing our vision for an annual report of very high standards".